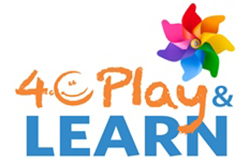 Caring for Children, Together
Do you care for your grandchildren? Do you care for nieces, nephews, or other young family members? Do you take care of a friend's child? Are you a stay-at-home mom or dad? 4C of Southern Indiana, Inc. has special programs to support the important work you do for children.
4C Play & Learn groups, for children birth to five and their trusted adult, provide activities designed to promote school readiness in a playful atmosphere. FREE 90-minute sessions, at various locations around Evansville and Henderson, help children develop their bodies, language and literacy, problem-solving and cognitive skills through play. Groups also provide plenty of opportunities for children to practice getting along with others.
What's it like at a 4C Play & Learn group?
Who comes to 4C Play & Learn?
Grandparents who care for their grandkids
Aunts, uncles, or other family members who help care for children
Stay-at-home moms & dads
Nannies
Friends who watch friends' children
Home-based child care providers
How do I find a group?
Tuesdays:
St. Paul's UCC
2227 W. Michigan St.
Evansville, Indiana 47712
9:30 a.m. to 11:00 a.m.
Wednesdays:
Good Shepherd Assembly of God
4330 N. Burkhardt Rd. (just north of Lynch)
Evansville, Indiana 47715
9:30 a.m. to 11:00 a.m.
Thursdays:
Eastminster Presbyterian Church
5501 Washington Ave.
Evansville, Indiana 47714
9:00 a.m. to 10:30 a.m.
Zion-Lippe UCC
9000 Copperline Rd.
Mt. Vernon, IN 47620
9:30 a.m. to 11:00 a.m.
Fridays:
Thelma Johnson Early Learning Center
631 N Green St.
Henderson, Kentucky 42420
9:30 a.m. to 11:00 a.m.
*This location meets during school year only
Saturdays:
Dunigan Family YMCA
6846 Oak Grove Rd.
Evansville, Indiana 47715
10:00 a.m. to 11:30 a.m.
*1st and 3rd Saturday Only
Vanderburgh County sessions are cancelled when EVSC is delayed or closed due to weather
What else do I need to know?
Pre-registration is not required
Families are welcome to move between locations and come to multiple groups each week
Play & Learn meets year round and young school age siblings are welcome during spring & summer breaks
Play & Learn is CANCELLED on most Federal Holidays and when the local school district is closed due to weather
Play & Learn offers special events several times a year
Play & Learn offers a monthly calendar of community events appropriate for families with young children
For more information about 4C Play & Learn please contact the 4C Play & Learn Coordinator at 866-200-5909, extension 110 or 4cplayandlearn@child-care.org. 4C Play & Learn programs are made possible through the generous support of Welborn Baptist Foundation, Inc.